The first thing I did after waking up at 7am this morning was to take a warm bath and do some chores…And then I turned to the www for the country's biggest news: yesterday's election results. You should know by now that I am not into politics…and yet the election "Tsunami" as its being called…is somewhat exciting. 🙂
Anyways, you're probably wondering why I was up so early (trust me, for me, 7am on a non-working day is early!)…well, I had exactly 12 hours of sleep what! There's a limit to how long I can sleep you know.  😉
Yeah, so I slept real early last night 'cos after work at 1pm, me and some colleagues went to the hot spring at Kpg. Panchor Dayak, Serian…some less-than-1-hour drive from Kuching. From the main road, it takes a  less-than-10-minutes drive to reach the hot spring.
Kampung Panchor Dayak Hot Springs is accessed from the Kuching-Serian Road, just after the small town of Tapah, via a rural road and gravel track. Around 48 km from Kuching, the spring is managed by the local community who have developed basic infrastructure including boardwalks and changing rooms. Open at weekends, admission is RM 3 for adults and free for children."
Source: borneotravel.com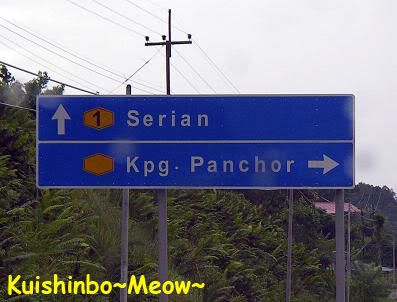 Source: Kuishinbo~Meow~
I won't describe the exact directions to reach the place but I found this blogger, Kuishinbo~Meow~, who already did…but that was almost 2 years ago, so some of the landmarks have either been demolished/changed or there are newer landmarks now. Dang! Should have taken my own pics! (I did, but only the 4 posted below, and only at the hot spring itself.)
Nevermind, if you really wanna go, next time I bring you go myself lor. LOL.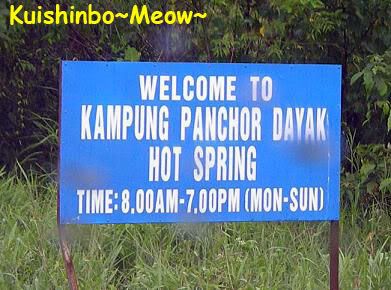 Source: Kuishinbo~Meow~ 
When we arrived there, it was closed but there was a sign there with a name and number to call…so we called and it was opened especially for us! 😀 I confess, at first we were a bit doubtful about being in the forest (yes, the hot spring is located inside the forest) all alone, just us 5 ladies, but the caretaker of the place (and the colleague who suggested the place and had been there many times before) assured us it is was safe. But we took percautions anyways by closing the main gate from within. Haha…
At first, I was ragu-ragu [doubtful] about getting into the water because it looked so…"natural". Hehe…and also because it's HOT! Well, duh!, it IS a hot spring afterall…


Source: My camphone
So to loosen up, we had our meal (we came bringing picnic lunch…haha) by the pool, with our legs slowly dipping into the extremely warm water…My feet only merely touched the surface of the water…it was hot lah! You can see steam and bubbles rising from the water!


Source: My camphone
After lunch, the caretaker came back and was shocked to see us still dry.
"Wah…belum masuk lagi?!" ["Wah…still not inside the pool yet?!"]
We sat around the pool again and continued to try to trick our minds into believing that the water is not that hot and allowing ourselves to get into the water…Slowly and surely, we started with our feet, then up to our ankles, to our knees, to our thighs…in the end, we were up to our necks in hot water – AWESOME!!! Haha…really, once you're inside, the water doesn't seem too hot anymore…


Source: My camphone
But you can't stay for too long inside, it really does weird things to your body – your heart beats a lot faster, you tend to run out of air, you feel tired (Imagine you'd been running a marathon – that's EXACTLY how you'd feel)…and you feel light, and somehow, really really sleepy – and all just sitting there in the hot tub! Amazing…it's like you're exercising without moving a muscle! Just soak and let the water massage every muscle in your body! 😀


Source: My camphone
Know how these hot springs are formed?
When water seeps into underground hot rocks where it can be heated to boiling point then flow back to the Earth's surface. At present there are 79 confirmed geothermal manifestation areas (61 in Peninsular of Malaysia, 8 in Sarawak and 10 in Sabah). There are numerous other thermal areas reported especially within the remote vicinities of Sabah and Sarawak, however, these occurrences are yet to be ascertained due to their inaccessibility."
Source: NRE
Hot springs are said to be very good for the body, healing aches and pains, skin problems, etc. or simply to wind-down and relax…Trust me, I've never felt so relaxed… Next time go there must bring those aromatherapy candles…sure sleep like baby one…Heck, back from hot spring last night also I sleep like baby dy. LOL.
Move aside man-made spas and saunas…the real hot spring is the way to go! 😀
Note: The Panchor Dayak Hot Spring is as natural as you get them, undeveloped and in the forest…if it had been developed into a resort I'm sure it would cost you more than RM3/entry.
P.S. – Did you know that hot springs are famous in Japan and that they are usually enjoyed naked? 😉 For an example of developed hot spring resorts in Japan, click here.